Sarah Burton 's first collection for Alexander McQueen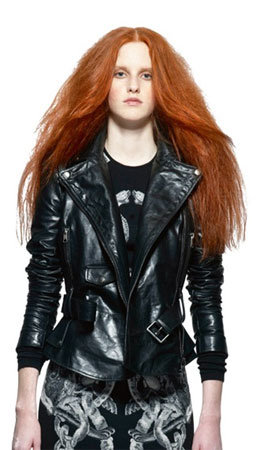 www.alexandermcqueen.co.uk
MADRID, 02 (EUROPA PRESS) A few weeks after the announcement of the succession of
Sarah Burton
to lead
Alexander McQueen
, we can finally take a look at the first proposals for the fashion house's new creative director.
Cruise 2011 is the new collection for women, inspired by the artist Hans Bellmer's dolls, as well as samurais. A few weeks ago, after Alexander McQueen's right-hand man accepted the position as the fashion house's new creative director, she declares she would preserve the brand's philosophy, so we finally have a glimpse at Sarah Burton's first proposals for Alexander McQueen.
With the blessing of the president,
Jonathan Akeroyd
, who said that Sarah "has a clear understanding of her vision, which will allow the company to keep to its roots," the first women's wear collection, Cruise 2011, has just been launched.
This is a collection inspired by photographer Hans Bellmer's dolls, as well as samurai warriors, "a juxtaposition of pale and delicate contrasted with stronger and more engaging designs," the designer explains. "A super structured torso gives way to a much more fluid silhouette and lower-waisted skirts and finnish trousers." Without a doubt, Sarah has tried to maintain much of the original essence of McQueen, especially in the dramatic sweetheart neckline dresses in red and reptile print.
All this may be 'very McQueen', but Sarah's collection lacks the relentless and ruthless wit so characteristic of the 'enfant terrible' of fashion. There has always been something dangerous and unique about the work of this great artist and designer, something never seen before.
Perhaps mainly due to the challenge, caution and fear with which Sarah presents her first individual collection, this unique essence of McQueen is lacking.
Copyright © 2023 Europa Press. Está expresamente prohibida la redistribución y la redifusión de todo o parte de los contenidos de esta web sin su previo y expreso consentimiento.