Swatch sales soar despite weaker China luxury demand
Booming demand for mid-priced watches in China is more than offsetting a slight cooling at the top end of that market, world No. 1 watchmaker Swatch Group said on Tuesday as it stuck to a forecast for record annual sales.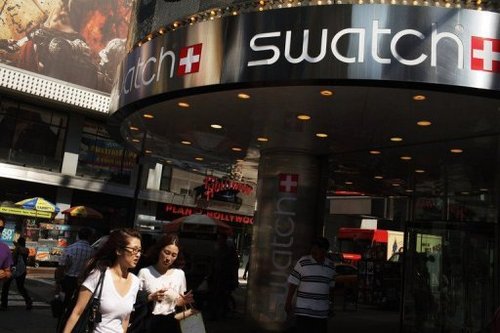 A Swatch store in Times Square, New York (AFP/Getty Images/File, Spencer Platt)

Famous for its colorful plastic watches and also behind luxury brands including
Omega
- featured in this year's James Bond movie, Swatch is set to overcome all risks, including fallout from the euro zone crisis, Chief Executive
Nick Hayek
told Reuters in an interview on Tuesday.
"Our sales objective for 2012 is and remains to achieve 8 billion Swiss francs," Hayek said. Last year Swatch Group beat its sales goal for a record 7 billion Swiss francs ($7 billion).
The company, whose Omega brand is the official timekeeper for the London Olympics, reported first-half sales up 14 percent to 3.85 billion francs, while net income after minorities rose 25 percent to 720 million francs, beating the 672 million forecast in a Reuters poll.
Shares in Swatch Group rose 2.8 percent to 371.9 francs by 6:03 a.m. EDT (1003 GMT), outperforming a 1 percent rise in the European sector index .SXQP.
"Swatch Group's strong presence in the medium-priced segments should help the company offset any given weakness in the high price end," said Helvea analyst Michael Heider, who rates the stock as "accumulate".
CHINA DEMAND
The Asia-Pacific region, mainly driven by China, is the fastest-growing luxury market in the world, buoying watch- and handbag-makers as shoppers in Europe, the world's biggest luxury market, reduce spending due to the economic crisis.
However, after figures showing China's red-hot growth is cooling somewhat, signs are mounting that demand for ultra-pricey timepieces there is diminishing, Swatch said.
"We see a slowdown in the very high end. But if we talk about slowdown, it's relatively healthy," said Hayek.
The group was still seeing overall growth rates of more than 20 percent in China, and outside China high-end sales remained strong, he said. Swatch's mid-range watches include
Tissot
and Certina brands.
So far, evidence of a slowdown in the Chinese luxury sector is mixed. In May, Tiffany & Co cut its profit forecast, blaming slowing growth in important markets such as China, but rival
Richemont
, the maker of
Cartier
jewelry, said in May also that the Chinese market was still strong despite a slight weakening in some coastal cities.
French luxury groups
Hermes
and Remy Cointreau have also sounded optimistic, saying the Chinese were still snapping up Birkin bags and rare cognacs.
In addition to rising prices for diamonds and gold, the strong Swiss franc has squeezed margins at Swatch.
Yet a stabilization of the exchange rate, in part because the Swiss National Bank capped the franc at 1.20 per euro last September, had a positive effect on revenues during the first six months of the year, the company said.
Hayek, who has been outspoken in his calls for a weaker franc, said he supported the SNB policy which he said was protecting Swiss industry from speculators.
© Thomson Reuters 2022 All rights reserved.