Talbots announces cost cuts, $200 mln loan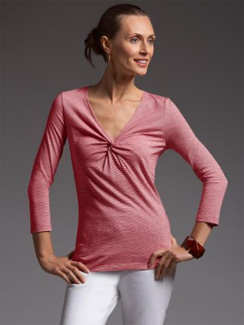 www.Talbots.com
* Says got $200 mln loan from shareholder to repay debt
* Aims to cut 370 jobs, close 20 stores, shave staff hours
* Sees cost-cuts saving it $150 mln
* Says Q4 sales fell 23 pct; sees Q4 net loss below view
* Shares jump as much as 16 percent (Adds byline, outlook, background)
By Martinne Geller
NEW YORK, Feb 5 (Reuters) - Talbots Inc (TLB.N) said it got a $200 million loan and announced a cost-savings program on Thursday that includes closing stores and cutting jobs, sending shares up as much as 16 percent.
The apparel retailer, which caters to women over 35, also said its fourth-quarter net loss will be "significantly below" Wall Street expectations, which, according to Reuters Estimates, were for a loss of 32 cents, excluding items.
Even after bold moves including closing some businesses, shaking up its management team and revamping its classic styles, the company said quarterly sales fell 23 percent, leading gross margins to contract. It sees the weakness continuing.
"We are planning very conservatively for fiscal 2009 and at this time expect little to no improvement in the economic climate for the first half of the year," said Chief Executive Trudy Sullivan in a statement.
Talbots said sales for its fourth quarter, which ended on Jan. 31, slid to $328 million from $428 million a year ago, as sales at stores open at least a year fell 24.6 percent.
The company said it plans to save $150 million by cutting 370 corporate jobs, or 17 percent of its corporate headcount, reducing the hours of workers in its stores and call centers and suspending its matching contributions to employees' 401(k) retirement accounts.
Talbots said it expects to incur a $6.2 million charge in the fourth quarter related to the job cuts.
ANOTHER BOOST FROM JAPAN
Talbots said it will use its new unsecured loan from Aeon Co Ltd (8267.T), Japan's second-largest retailer and its majority shareholder, to pay off debt related to its 2006 acquisition of the J. Jill chain.
The loan, which adds to Talbots' existing working capital borrowing capacity of $215 million, will contain no financial covenants and will have no scheduled amortization. It is expected to close during the current first quarter.
Talbots also said its other outstanding loans will now be guaranteed by Aeon, which last month warned it may post its first annual net loss in 7 years, hit by flagging sales, accounting changes and a write-down at Talbots.
Talbots, which has been trying to improve sales at its namesake stores, put the J. Jill chain up for sale in November. It said on Thursday that the process was "moving forward".
Last April the ailing company said two banks had decided to stop providing it with letters of credit used to back financing for merchandise bought overseas. In June, Talbots said Aeon had agreed to provide it with a $50 million credit facility to aid its turnaround plan.
Shares were up 19 cents, or 9 percent, at $2.30 on the New York Stock Exchange after rising as high as $2.45 earlier in the session. (Reporting by Martinne Geller, editing by Maureen Bavdek, Dave Zimmerman and Gunna Dickson)
© Thomson Reuters 2022 All rights reserved.