Talbots' Q4 loss worse than expected, shares fall
By Alexandria Sage
SAN FRANCISCO (Reuters) - Talbots Inc's (TLB.N) deeper-than-expected quarterly loss and staid sales projections sent its shares diving 15 percent after the closing bell on Monday 13 April, overshadowing news of a new $150 million loan facility that the women's apparel retailer says will boost liquidity.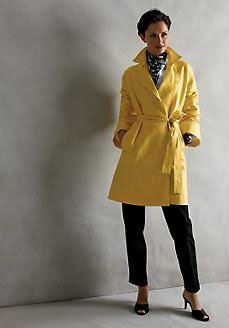 Talbots Spring 2009
The new facility, secured through majority owner
Aeon
Co Ltd (8267.T) of Japan, will help the company "navigate through these most turbulent times", Chief Executive Trudy Sullivan said in a statement.
Loss-making Talbots, trying to engineer a turnaround through cost-cuts and new designs, also said it had signed a letter of intent with Li & Fung Ltd (0494.HK) to explore the possibility of enlisting the Hong Kong-based sourcing giant as its primary sourcing agent.
That should simplify sourcing, reduce operating costs and potentially cut the cost of goods, Talbots said.
The company posted a net loss in the fourth quarter of $366.5 million, or $6.85 share, compared with a loss of $171.4 million, or $3.22 per share, a year earlier.
Excluding a $66 million tax-related charge, as well as restructuring and asset impairment charges, its quarterly loss per share was $1.17. Analysts, on average, expected a loss of 66 cents per share, according to Reuters Estimates.
Sales fell 16 percent to $327.9 million, the company said.
REJUVENATION 101
Talbots expects an adjusted first-quarter loss from continuing operations of 47 cents to 52 cents per share, excluding restructuring and impairment charges.
And it said same-store sales in the first quarter would be at roughly the same levels as the fourth, when they tumbled 25 percent.
The retailer, which operates namesake stores as well as the J. Jill chain, is hoping to revamp its classic styles to galvanize sales in a sluggish market for women's apparel.
Besides cutting jobs and closing some units, the company has suspended its dividend and frozen its pension plans to preserve cash.
Talbots has said it wanted to sell the J. Jill chain -- which it bought only in 2006 -- to focus solely on reinvigorating its core brand, but they have yet to announce a buyer.
"Any positive update on the sale of J. Jill or balance sheet could trigger a significant short squeeze," wrote FBR Capital Markets analyst Adrienne Tennant on Monday, before results were announced.
Talbots said in February that it could save $150 million through job cuts and other measures, such as suspending matching contributions to employees' 401(k) retirement plans.
The new credit facility announced on Monday will supplement existing working capital facilities of $215 million. Talbots refinanced a $200 million term loan with Aeon, Japan's second-largest retailer, in February.
Shares fell 15 percent to $3.87 in extended trade, after closing up nearly 17 percent at $4.57 on the New York Stock Exchange. Excluding Monday's share rise, shares are down 74 percent since a year ago.
(Reporting by Alexandria Sage; Editing Bernard Orr)
© Thomson Reuters 2022 All rights reserved.