Talbots sees little respite, shares tank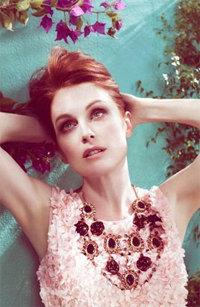 Talbots
June 7 - Women's clothing retailer
Talbots Inc
warned its revenue would fall for a fifth straight quarter while heavy discounting shrinks its margins, knocking off more than a third of the company's market value as investors grow tired of waiting on a year-long makeover.
Shares of the company tumbled as much as 37 percent, while the broader S&P Retail Index .RLX was up 1.08 percent.
Talbots, which has been widely panned for its staid clothes, is in the middle of a prolonged turnaround -- closing underperforming stores, redoing others and trying to position itself as a more upmarket shopping destination.
But the strategy is not showing steady returns yet. For the fourth quarter, Talbots had said it was seeing sales trends improve as it focused on its core customers -- women aged 50 and above.
But sales weakened again in the first quarter, as revenue fell 6 percent to $301.3 million, below Wall Street estimates.
The company said it would have to keep discounting deeply in the second quarter, suggesting its merchandise is still not seeing enough interest from shoppers.
"Despite (a profit) that beat consensus, first quarter was very weak," Nomura analyst Paul Lejuez said.
"The top line indicates the company is getting little traction with its merchandise as comps decreased 8 percent, gross margins decreased 800 basis points, and inventories are high."
The Hingham, Massachusetts-based retailer said second-quarter sales so far were down by about low-teens. Margins, too, are expected to be "significantly below last year."
"Second quarter guidance metrics imply a loss of 35 cents a share," Lazard Capital analyst Jennifer Davis said in a note.
Market consensus for the second quarter was a loss of 3 cents a share.
The company, like most other retailers, is also juggling the high costs of raw materials and gasoline with the need to discount heavily to keep customers interested in shopping.
Makers of everything from soap to clothes are struggling with prices.
Procter & Gamble
(PG.N) forecast a sharp rise in costs, and clothes retailer
Gap
Inc (GPS.N) slashed its full-year profit outlook, saying higher price tags would not be enough to offset rising cotton costs.
Last month, Talbots' peer Ann Inc (ANN.N) saw margins buckle under heavy discounts.
For the first quarter, the 64-year-old company posted adjusted earnings of 8 cents a share, compared with market estimates of 3 cents.
In April 2010, the company had completed a financing deal that cut its ties with
Aeon
Co Ltd (8267.T), Japan's second-largest retailer. The move boosted liquidity and gave Talbots the means to fund an overhaul of its stores.
Talbots had a total outstanding debt of $86.8 million at the end of the first quarter -- down from $94.1 million last year.
Talbots shares were down at $3.12 Tuesday before the markets opened. They closed at $4.42 Monday on the New York Exchange.
(Reporting by Nivedita Bhattacharjee; Editing by Savio D'Souza and Saumyadeb Chakrabarty)
© Thomson Reuters 2022 All rights reserved.