Target profit tops expectations; shares climb
Target Corp (TGT.N) posted a much bigger-than-expected jump in quarterly profit on Wednesday as shoppers responded to its 5 percent discount for cardholders.
The retailer also indicated that this quarter's profit may be better than Wall Street has been anticipating, and its shares rose 3.5 percent to $55.06 in premarket trading.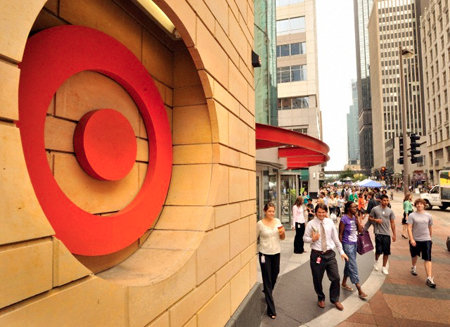 Target store in Minneapolis, Minnesota, USA (Photo: Corbis)
Target earned $555 million, or 82 cents per share, in the third quarter ended on Oct. 29, up from $535 million, or 74 cents per share, a year earlier.
Target had forecast earnings of 70 cents to 75 cents per share, and analysts on average were expecting 74 cents, according to Thomson Reuters I/B/E/S.
The Minneapolis-based company has 1,767 U.S. stores and plans to open some in Canada starting in 2013.
Excluding costs related to the plan to open stores in Canada, Target said it earned 87 cents per share.
Gross margin declined much less than expected and expenses related to Canada were lower than anticipated, said Janney Capital Markets analyst David Strasser.
Target's move to add groceries to more stores has boosted sales, but also puts a little pressure on profits, as food carries lower margins than merchandise like apparel. Gross margin slipped to 30.5 percent from 30.6 percent.
The number of transactions at stores open at least a year rose just 0.3 percent, after rising 0.5 percent in the second quarter, suggesting that expanded food departments and a limited-edition line of Missoni goods did little to lure shoppers to the stores during the quarter.
Still, the number of shoppers at Target is up, while traffic at Wal-Mart Stores Inc's (WMT.N) U.S. stores continues to decline, albeit at a slower pace than before, as the company works on winning back patrons. On Tuesday, Wal-Mart's profit came in just short of expectations.
CREDIT CARD USE CLIMBS
Target REDcards, which include credit cards and debit cards, were used for 9.5 percent of sales at Target stores during the quarter, up from 5.5 percent a year ago. The 5 percent discount for purchases made with Target cards began on Oct. 17, 2010, so its impact was not felt during much of last year's third quarter.
Credit card revenue fell 8.2 percent to $348 million, while credit card expenses plunged 44.9 percent to $109 million.
Now, Target is offering its card holders free shipping on any online purchases, hoping to woo shoppers away from other sites such as Amazon.com Inc (AMZN.O) this holiday season.
It also promoted its Black Friday sale early by having shoppers sign up to get details about the deals, much as larger rival Wal-Mart did. Target is opening its stores at midnight after Thanksgiving, earlier than before.
This year's early promotional push has led some shoppers to buy. According to a new National Retail Federation survey, 51.4 percent of Americans already started their holiday shopping by early November, up from 48.9 percent last year.
Target previously said third-quarter sales at stores open at least a year, or same-store sales, rose 4.3 percent. The average amount spent per transaction at those stores rose 4.1 percent as shoppers bought more items and prices were higher.
Target already forecast same-store sales should rise in a low-to-mid single-digit percentage range in November. It also already reported that third-quarter sales rose 5.4 percent to $16.05 billion.
Target forecast fourth-quarter earnings of $1.43 to $1.53 per share, excluding certain items. Analysts were looking for a profit of $1.47 per share.
Earlier this month Target said Chief Financial Officer Doug Scovanner would retire in March, its third high-profile departure in less than a month.

(Reporting by Jessica Wohl in Chicago; editing by John Wallace, Lisa Von Ahn, Dave Zimmerman)
© Thomson Reuters 2022 All rights reserved.